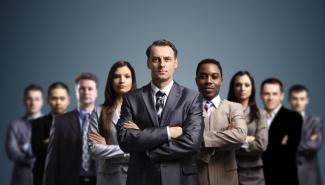 Course overview
Actors use "tools" (voice, body, focus) to convey emotion and tell stories to audiences. Acting for Management will help you utilize the actor's tools to become a more powerful and persuasive presenter, to feel more confident when communicating with others, to understand your audience and to show the world the best and most authentic version of you. Through in-class exercises, scene work and discussion, you will practice the craft of acting and learn how it can enhance your abilities as a manager and leader.
Learning outcomes
At the conclusion of this course, you should:
Use the actor's tools to shape your performances and presentations
Exhibit increased confidence in performing and presenting
See an increase in your willingness to be spontaneous and take risks
Course details
Place: Maceškův palác, Vinohradská 2165/48, Prague
Beginning: October 2017
End: December 2017 (10 classes)
Price: 350 CZK / class (90 minutes)
Lectors
Marianna Arzumanova
Professional actress, director, choreographer and acting coach. She has been working in Czech Republic and abroad for 10 years (graduated from Russian University of Theatre Art - GITIS), co-owner of a tango school Buenos Aires Tango and creator of International Company Divadlo Marianny Arzumanove in Prague (since 2013).
Stefan Radacovsky
Used to work as a project manager and team leader at companies like Deutsche Boerse, Commerzbank and Barclays. Currently works as an IT consultant and is a co-owner of International Company Divadlo Marianny Arzumanove.